Houseboats have been increasing for some years in Italy too: they're a new way to enjoy the living room, far from the classic stereotypes
Sleeping on a Houseboat can really be a new experience, but first of all it's important to clear up some of the preconceptions surrounding houseboats.
In fact, modern Houseboats are very different from the classic cargo boats which are used for river transport. These are often reclaimed and redesigned as residential structures or as local facilities such as bars and restaurants, typical of Northern Europe. New technologies have transformed "houseboats" into homes equipped with every comfort, therefore making them perfect to accommodate even the most demanding travellers.
Living on a "houseboat": an alternative to the "usual" accommodation options?
Living on a houseboat, whether it be residential or touristic, is a reality that has been established for several years in other European countries and the United States. In Italy however, it is only in recent years that we have begun to see the potential of this option. It's a "niche" market that offers excellent growth potential, attracting more and more attention from travellers looking for "something new".
The first step was the increasingly wide range of river cruises, which allow travellers to discover fascinating and often unknown corners of our territory. For example on the Venetian Lagoon and in many areas of the Brenta Riviera. But the qualitative leap was that which led to seeing moored houseboats as a real holiday location.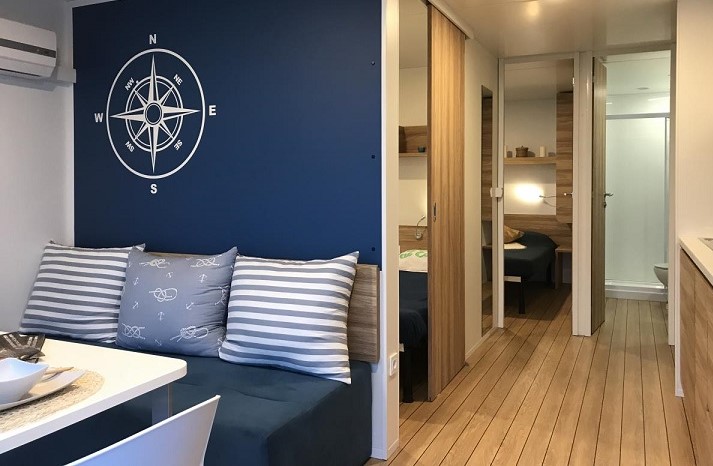 Modern Houseboats: between style and smart technology
A location where you can enjoy a unique stay surrounded by the sea, sipping an aperitif or enjoying a sunset or moonlit dinner in peace and far from everything.  In other words, a perfect choice for those who want to discover the beauty of a boat holiday, but still don't feel ready to partake in a classic cruise.
The result is an offer that allows you to discover the charm of staying at sea without giving up any of the typical comforts of high level hospitality. For instance, the most advanced technologies in the field of home automation. That is to say a modern, smart and ecological "houseboat", for a stay which respects nature without losing appeal. It's hard to find all these features in a classic hotel room.
The rebirth of the Marina: the role of Houseboats
The diffusion of modern Houseboats is also an important opportunity to relaunch marinas and touristic harbours. In fact, in recent years the economic situation and a particularly "heavy" fiscal policy have led to a progressive decline in the level of mooring occupation.
Most importantly, allocating a part of the dock to houseboats dedicated not only to cruises but also to mooring stays, allows for the expansion of marina and harbour business. Consequently opening up to a new type of customer.  Above all, it must obviously be a complete and dedicated service, making a whole series of services available to customers, that result in an even more pleasant and interesting stay in the marina.
Water-edge resorts: luxury within reach of all budgets
The possibility offered by Houseboats is that of a real alternative to the classic hotel stay. In particular with the creation of actual resorts dedicated to houseboats inside marinas and harbours.
These are areas with reserved access, which often offer bicyle rental or inflatable dinghies, to enable you to discover the surroundings. Furthermore, all useful services are available to houseboat guests, as well as professional assistance from the members of the marina.
A chance to overcome the seasonality of tourism
With this option, it is possible to choose a location as a base and dedicate yourself to excursions by land and sea to discover the beauty of the territory.  It's certainly an important opportunity for nautical and related tourism, with the definite possibility of overcoming even the typical seasonality of this type of tourism.
Staying aboard a moored Houseboat protects you against the winter weather, as well as allowing you to enjoy a boat holiday at any time of the year.
Marina Azzurra Resort: the new concept of Houseboats surrounded by nature
In order to offer the precise opportunity to experience a holiday at a pace dictated by nature, the Houseboat proposal of the MarinaAzzura Resort of Lignano Sabbiadoro was born. Starting from the possibility of choosing accommodation on a houseboat in the harbour or moored on the banks of the Tagliamento river. The river mooring offers an exclusive view between the blue of the water and the green vegetation that surrounds the area. Additionally, houseboats offer ample space and are complete with everything you need to ensure a pleasant stay.
In conclusion, the resort offers all the services that can help make a holiday unique. In fact, it is possible to practice sports, enjoy beach life, nature and to organise marine excursions, thanks to the rental of electric boats. There is literally everything you need to create a unique and unforgettable "tailor-made holiday". Starting from the location, which allows you to skillfully mix the charm of a boat with the comfort of an apartment.
Discover and book available houseboats!