To those who have never tried to sleeping on a boat, the Bed&Boat experience, may not seem very attractive or convenient. However, the interior of a boat can be comfortable, spacious, equipped with every comodity and offers a really unique feeling.
First and foremost, you need to remember that a boat is an extremely versatile place that can be perfect for any occassion.
Sleeping on a boat is suitable for everyone
A couple looking for romance will find the ideal environment to recreate an atmosphere that wouldn't be possible elsewhere.
A family will benefit from exclusive use of the boat, which currently is not something we should take for granted.
Unlike a hotel where you are very likely to meet other people at close range, the boat is perfect for enjoying a relaxing holiday without worrying about distancing.
Sleeping on a boat is the most safe and unique environment.
Sleeping on a boat is the right choice also for a group.
A group of friends will find all the fun, comfort and privacy  they need to be able to fully enjoy a convenient space for exclusive use without disturbing anyone.
Emotions on a boat
Sleeping on a boat gives unforgettable moments.
A dinner in dinette, on the bridge or the sundeck, in an inviting, functional and exclusive environment, observing a beautiful sunset is priceless.
As it approaches, the sky and sea are tinged with shades of red, while the masts of other boats become shadows reflected on the water, creating a romantic scene.
Whether you are on the outer deck or admiring this spectacle through the portholes, you'll find yourselves spontaneously hugging to share the emotion of this special moment.
The light slowly goes out leaving the sea like a black pool, illuminated by the reflections of the lights, but sinking us into total obscurity, like a nest surrounded by darkness, a den in which to feel safe and protected.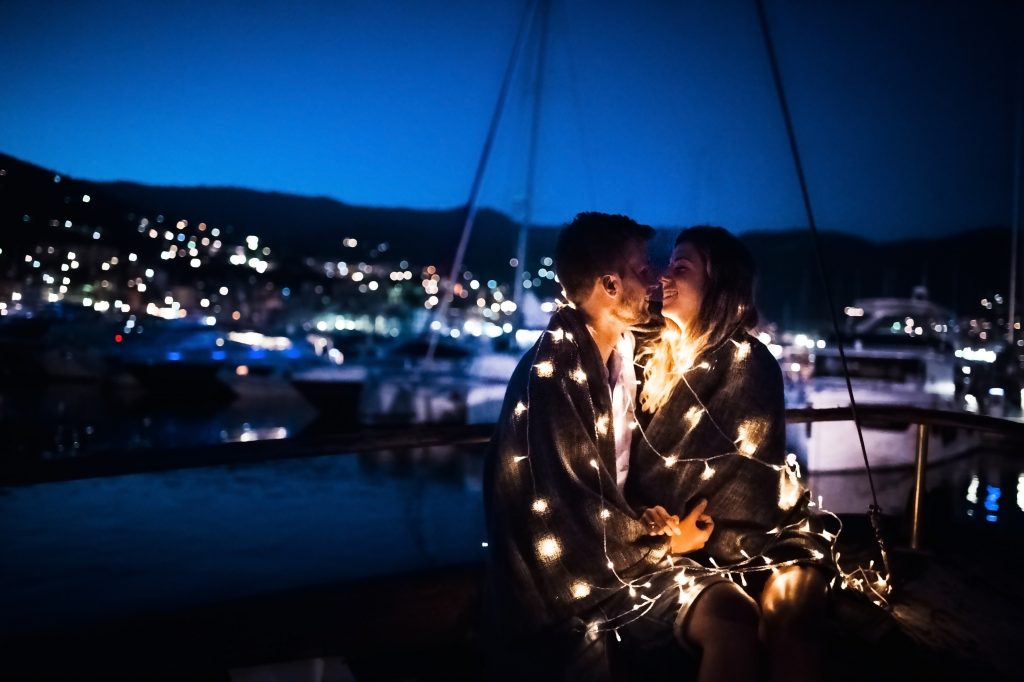 Sleeping on a boat makes for a relaxing and peaceful sleep. A feeling that only a boat can provide.
The benefits of sleeping on a boat
The benefits offered by the sea are scientifically proven, but perhaps we have not dwelt much on the feeling of well-being and tranquility that it instills.
After a day spent enjoying the sea air in the Marina, or visiting some wonderful coastal town, it will be heavenly to curl up on deck under a blanket with a good book and a glass of wine.
You will be able to appreciate your boat listening to the silence of the Marina with your gaze turned to the light of the stars.
The functional environment, equipped with every comfort and need will make you feel embraced and pampered. The shining amber of the wooden briar will showcase its refined elegance.
You will feel protected and cocooned, and with your eyes half open, you will by mesmerized by these unique moments.
Not to mention the wonder of lying in bed and looking at the stars in the sky from the window above, while the moon dyes the water with silver reflections.
Finally, wake up in the morning with the light coming in from the portholes and the sound of seagulls circling in the sky above you.
Boat Holidays
Now that you've discovered the unique emotions you can only experience with a boat holiday, you may need some advice or ideas to help you decide on your next destination.
Whether you decide to treat yourself to a relaxing weekend sleeping on a boat moored in the Marina (sleep on a boat – Bed&Boat) or a private cruise, you will be interested to read our article where you can find ideas for your next holiday.
Families, friends, couples; a boat holiday will satisfy everyone's needs.