Can't believe it? It's true, even autumn is the perfect season for a boat trip. Normally a boat experience is almost exclusively associated with summer, sea and sun. Instead we want you to discover this new trend.
Why should you book a boat stay in autumn? The climate is still mild and the sea calm. You'll have the opportunity to live the cities in the moment of less tourist impact! This means fewer queues, less traffic and more space for you! Autumn on a boat is sensational
Moreover, sleeping on a boat with the Bed&Boat formula allows you to stay in the heart of the cities, a few steps away from their characteristic landmarks, inserted in a magical atmosphere but without the hassle of having to find a parking lot for your car.  And when you are tired of wandering, all you have to do is retrace your steps and rest in your private, comfortable and safe space that will make you feel at home.
So why not take advantage of this season to fully enjoy the beauty of our land? So here are five absolutely unmissable and perfect destinations for an unconventional holiday!
Autumn by boat in Genoa
Autumn on a boat won't let you down.
Even if you have already visited it, we're sure that Genoa seen from the sea will leave you speechless, not for nothing this city is called "the Superb". Genoa seems to emerge from the waters like a queen, with her crown of mountains embracing and protecting her.
Admiring the view from the quay, you'll see elements that acquire a whole new dimension from the sea, those elements so dear to the Genoese. The line of the flyover seems to cut through the city, the multi-coloured houses that spread out to look like a nativity scene, the majestic symbol of Genoa… the Lantern that seems to guard the colorful containers crammed at its feet and last but not least its mountain tops with its the row of forts to act as guardians.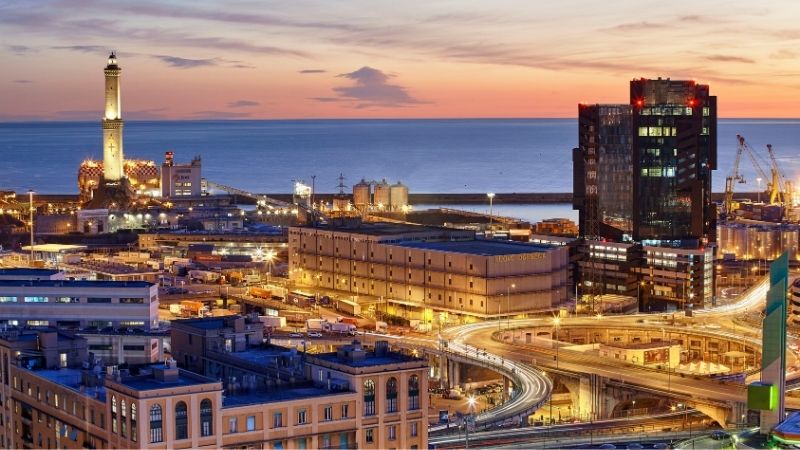 Characteristic traits
The morning awakening will be sweet, lulled by the soft lapping of the water in the Marina. Once you leave the comfortable embrace of your boat and step on the quay, you have within reach thousands of possibilities. For a great kick-start, you must taste a freshly baked Genoese focaccia, the pride of this city.
The historic centre will open up as a mix of past and present. The stone arcades of Sottoripa which once housed artisan shops and warehouses, will invite you towards the maze of alleys and squares that characterize this area. The historic centre of Genoa, one of the largest in Europe, is a UNESCO World Heritage Site since 2006.
You'll be led to the heart of the city, with its squares, elegant architecture, churches, monuments and the modern shopping avenue.
There are many nice characteristics spots where you can taste Genoa's specialties. However if you want to retire early, you can use the take-away service and enjoy your meal in the comfort of your boat.
Autumn by boat in Naples and the Amalfi Coast
A magical place where art, traditions and breathtaking landscapes come together creating incredible patches of paradise, that you can fully enjoy from your boat, in the tranquillity that only autumn can give.
With a boat stay, you'll have the opportunity to be enchanted by the Gulf of Naples, Sorrento, Capri with its famous "Faraglioni" and the Blue Grotto, and discover the wonderful Amalfi Coast with its picturesque streets and its vineyards and lemon groves overlooking the sea. A rugged and jagged coastline with clear, emerald waters.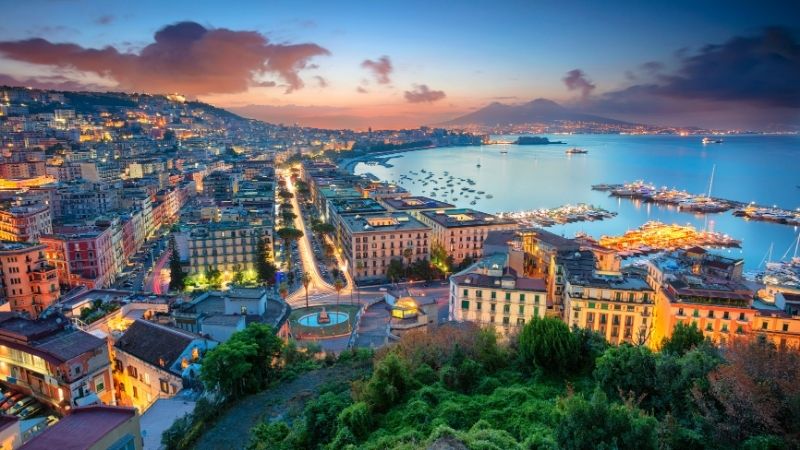 Highlights
You can't miss the splendid Amalfi and Ravello, the earthly paradise that enchanted Boccaccio and enjoy the wonderful sunset from the Infinity Terrace of Villa Cimbrone.
If you love the sea as much as hiking, you will be delighted by the Sentiero degli Dei (Path of the Gods)  which in the village of Nocelle reaches its maximum splendour with magnificent views of the coast, pine forests and caves all to be explored.
Shopping lovers have to visit Vietri, where they can stroll along artisan shops and buy souvenirs, typical of the area. Vietri, in fact, is famous for its ceramics.
You'll be submerged by a thousand colours and scents that will find a place in your heart and warm you up during the winter chill.
Autumn by boat in Barcelona
Renting a boat in autumn is definitely an alternative way to travel, and sleeping on a boat with the Bed &Boat  formula, moored at Marina of Barcelona is an unforgettable experience.
If you're an early riser, you can admire the rising sun wrapping the city in a golden aura reflected on the skyscrapers' windows. Your gaze can range from the sandy shores to the imponent buildings up to Montjuïc  Hill, easy to reach with a fun cable car ride.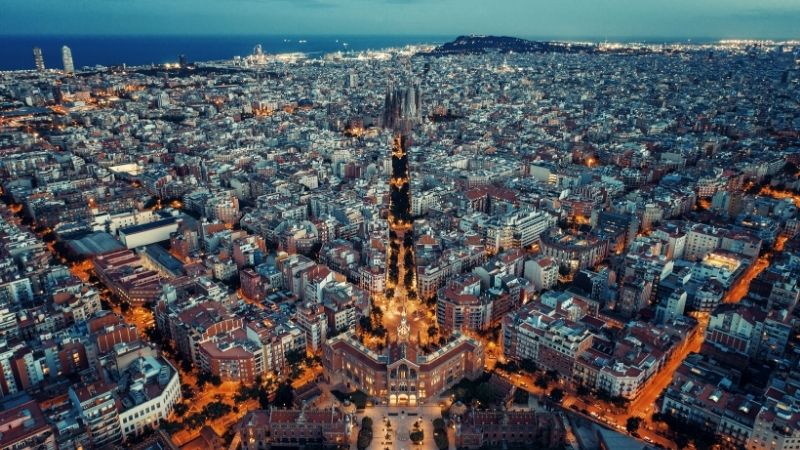 Barcelona is a modern, transgressive, gourmet, romantic and cultured city. Its soul will envelop you with its charm. It won't be easy to say good-bye to this beautiful city.
An enchanting city
Its green parks nested among streets and squares with ancient atmospheres, its stunning colours and the scents of the Boqueria will bewitch you. You can admire Gaudi's modernist architecture at its finest with La Pedrera, Casa Batlló and Parc Güell. Every time you walk along its streets, you'll find yourself in an incomparable art bath.
And how can we forget Barcelona's movida, famous worldwide. Along the Ramblas and in the Gothic Quarter you'll find plenty of PRs ready to distribute entrance tickets to clubs. Among the most popular spots, you have to see Margarita Blue situated in the Barrio Gotico, right in the city centre.
It's nice to go back to your boat, gently moored away from the chaos, after a day passed sightseeing at the discovery of art and food delicacies and a lively evening in nightclubs. An unconventional way to cool down the pace, relaxing looking at the stars in a mild autumn night.
Autumn by boat in Palermo
In Sicily you'll experience an autumn that tastes like summer and the boat is the best way to live it. In the blue setting of the Mediterranean Sea, you can enjoy the last rays of a pale summer sun that will warm you. Relax on the deck enjoying some delicious Sicilian specialties and cherish these special moments.
Eclectic and full of charm
Elongated at the foot of Mount Pellegrino, Palermo is an extremely fascinating and mysterious city, full of art with elements of Arab, Spanish and Norman culture. Its original artistic heritage is a mix of cultures that has no equal in Italy.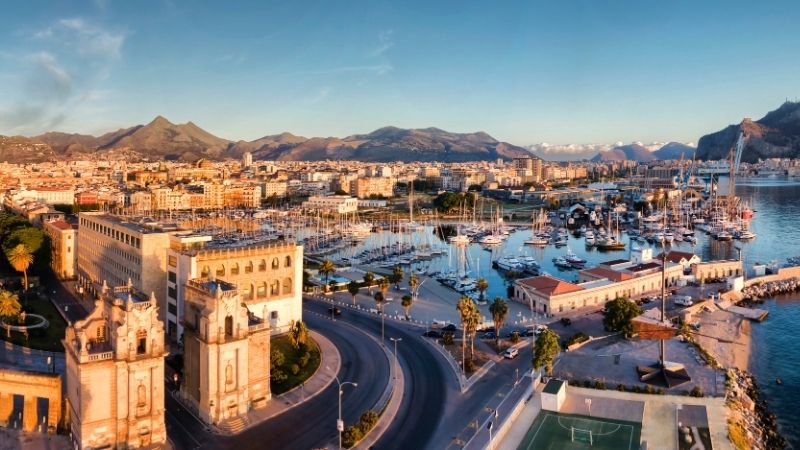 Strolling along the streets of the city centre with its maze of gardens, alleys and markets that look like Arab souks will be even more pleasant while tasting some delicacies of the traditional Palermo "street food".
Many food stands await you in the traditional Ballarò open air market, the city's oldest and most famous food court. We advise you to taste the potato-based "crocchè" and chickpea flour "panelle", but above all you have to visit I Cuochini, an ancient rotisserie in the historic centre.
Shopping lovers will meet their match here in Palermo, there are stores for all tastes and budgets.  and all those small shops full of extravagant objects and themed bookstores are worth a visit. Another must-see event is attending a puppet show. The Sicilian puppets have been declared an Intangible Heritage of Humanity.
Autumn by boat in Bari
Bari is perfect for a short sailing holiday in autumn. It's so accessible that a single day is enough to treat yourself with genuine moments, combining sea, good food and beauty.
Nestled on the shores of the Adriatic between fertile countryside dotted with olive groves, in recent years this university city has undergone a decisive restyling that has made it one of the most sparkling cities of Southern Italy.
Two cities in one
Two souls coexist in the same city. Bari Vecchia (Old Bari), nested within the old walls, occupies a promontory between two ports with its maze of alleys, historic buildings and beautiful churches where numerous testimonies of the medieval and Renaissance are preserved. Over the years the historic centre has undergone an incredible redevelopment, without losing its authenticity.
The more modern side of Bari, Bari Nuova, identified in the Murattian district, dates back to the nineteenth century, and is characterized by a checkerboard layout, a long promenade and a pedestrian area full of shops.
Via Sparano is a must for shopping lovers, with its elegant boutiques wrapped in a relaxed atmosphere, away from the traffic, however still remaining in the city centre.
If you want to spend a nice evening in a cozy place before retiring on your boat under a starry sky, we recommend Mercantile Nove. It offers great aperitifs and drinks, accompanied by mouthwatering dishes.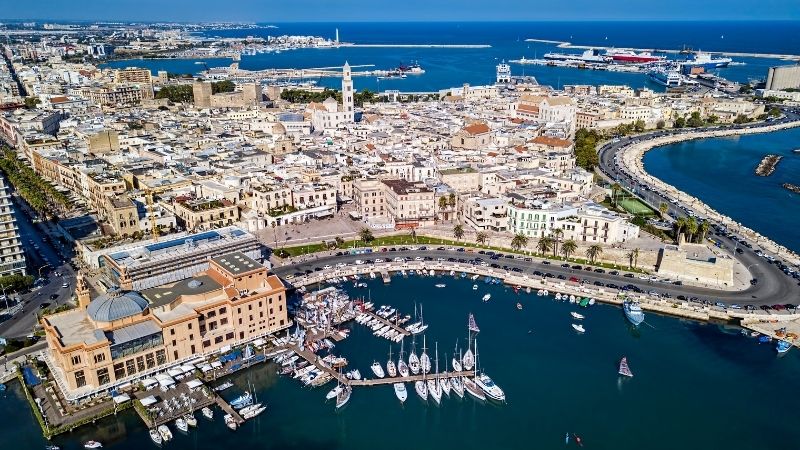 A boat holiday will help you to fully enjoy the nautical soul of this city. This passion for the sea flows in the veins of all its inhabitants. You'll notice that they never miss an opportunity to immerse themselves in its waters, or to admire it from the seaside.
In the morning you may be awakened by the voice of the fishermen calling passers-by for a taste of their wonderful catch. You might see men violently "slam" the freshly caught octopus on the rocks to stun it, and people perched on benches chatting.
Staying on a boat as if it were a small, exclusive hotel, will accompany you in the slow and sweet rhythms typical of Southern Italy. Moreover, choosing this innovative formula, you can live your travel experience in safety and comfort. Sleeping on a boat (Bed&Boat) is the new trend, raise the anchor and catch this new opportunity!